Windows and Doors
We offer 3 door styles for your sunroom and patio rooms: pedestrian (single), elegant French (double doors), and the sliding door.
Vinyl construction with structural reinforcing materials to help protect against heat and cold
Available with SmartGlass™ high performance glass options dual and double pane.
Available with grid option (craftman) for a unique look (dual glass only)
Beautiful high end hardware (pedestrian and French doors) or color matched hardware (sliding door only)
Continuous Roton hinge on pedestrian and French doors eliminate wind blow-by and door sag
Lifetime weatherstripping helps block cold and hot drafts
Modularized Construction
Modularized Construction Available in 24", 36", 42", 48", 54" Modules are cut and assembled in a quality controlled environment, resulting in less cuts in the field, fillers, exposed fasteners and less caulking.
Sunroom windows and patio room Windows Available in 54" or 60" - Weather-stripping - mohair on windows Removable screens - Brass rollers - Contoured adjustable handles (aluminum) Standard screens or solar screens (triple weave mesh) Pre-punched weep holes in window tracks - Tight seal.
Dura-Lite Window Glass is 8-Times Stronger Than Residential Window Glass, 10-Times more Scratch Resistant than Acrylic, Virtually Indestructible - Safer For Your Family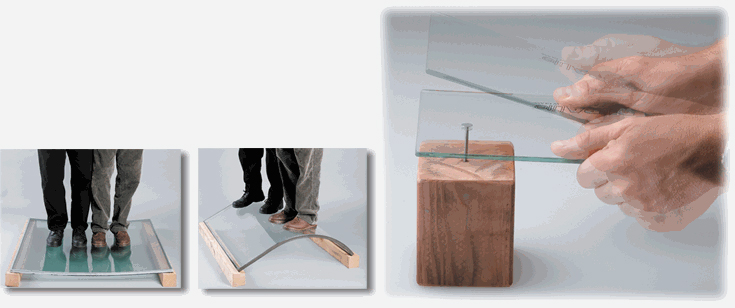 Smart Glass High Performance
Glass We offers a new high performance single pane product and a new "SmartGlass" family of double pane high performance glass products that outperform all competitive products in their class. Why are we doing this? For two reasons ….
(1) To give you an even greater competitive edge, and (2) because more than any other component in a sunroom or patio room, the type of glass used will determine the comfort and usability of the finished sunroom. Let's take a brief look at why the performance of glass is so important. What it all boils down to is this … the two biggest problems with sunrooms and patio rooms has to do with excess heat gain, which makes the rooms uncomfortably hot; and Ultraviolet radiation which fades and damages fabrics and furnishings.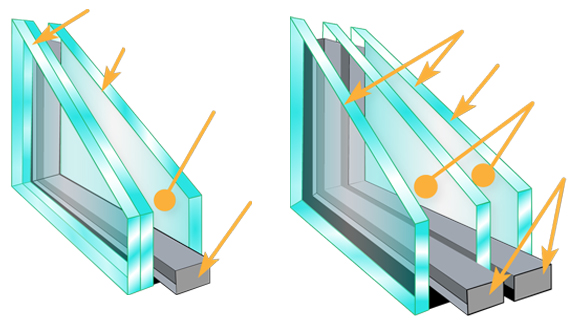 Our glass is Cooler in Summer and Warmer in the Winter which means 4 times Less Heat gain & Heat Loss 4 times more insulation than our closest competitor's glass Keeps your heating & cooling bills lower. Allows you to use your Room year-round Prevents fading of furniture with 5-times less ultraviolet destruction
Solar Heat Gain: We've all had the experience of parking our car at the mall on a nice sunny day, then returning to the car an hour or so later to find that it's an oven inside. Just like an automobile, sunrooms and patio rooms are glass-intensive structures which make them susceptible to overheating. Up to 90% of the surface area of a sunroom or patio room may be glass, so the performance of the glass has a direct and significant affect on the comfort and usability of the room. What sense does it make for your clients to invest in sunrooms or patio rooms that overheat so quickly that they can only be used comfortably on mild days in the Spring or Fall?
Ultraviolet Radiation: It is widely know that UV radiation is harmful and damaging, to people as well as to fabrics and furnishings. Glass products that transmit a high percentage of UV radiation will result in faster fading and damage to fabrics and furnishings that are used in that room. More importantly, homeowners who regularly spend time in these rooms may receive unsafe exposure to harmful UV radiation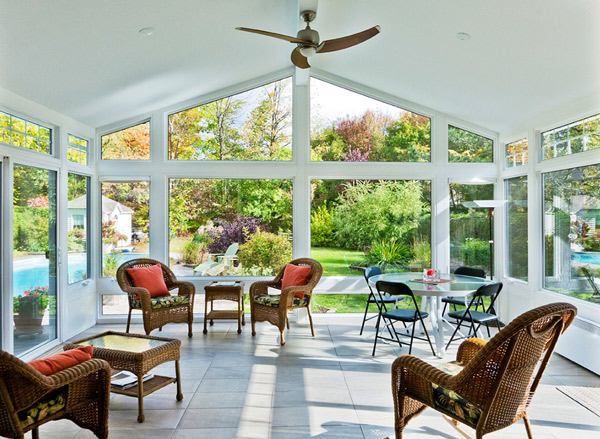 Proudly Serving: San Diego | Los Angeles | Riverside | Orange | San Bernardino Counties.